Celebrating the release of the new LionDub double CD on Music Mondays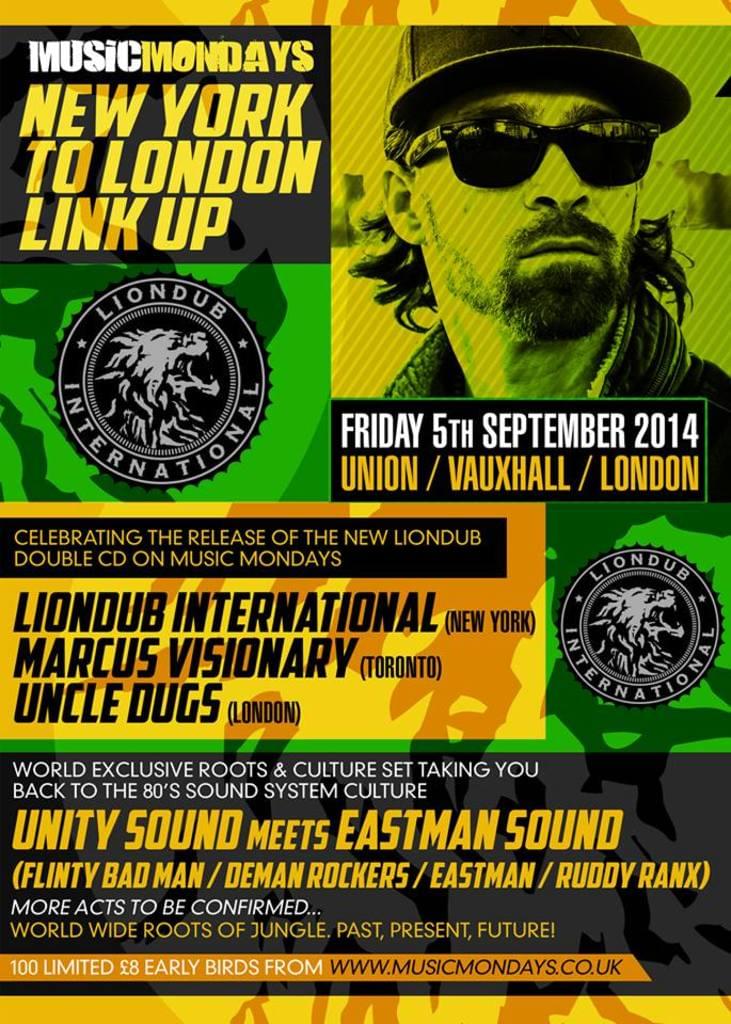 WORLD WIDE ROOTS OF JUNGLE. PAST, PRESENT, FUTURE!
LIONDUB INTERNATIONAL (NEW YORK)
MARCUS VISIONARY (TORONTO)
UNCLE DUGS (LONDON)
WORLD EXCLUSIVE ROOTS AND CULTURE SET TAKING YOU BACK TO THE 80'S SOUND SYSTEM CULTURE
UNITY SOUND MEETS EASTMAN SOUND (Flinty Bad Man * Deman Rockers * Eastman * Ruddy Ranx)
BILLY DANIEL BUNTER (FESTIVAL JUNGLE SET)
KING YOOF (HISTORY OF DUB. PAST, PRESENT, FUTURE)
JUNIOR BUZZ (OLD SKOOL JUNGLE CLASSICS)
MERRIX B2B BIG NEV (UPFRONT JUNGLE ANTHEMS)
*** SPECIAL GUEST MC FEARLESS ***
Friday September 5th / Union / London.
100 LIMITED £8 EARLY BIRDS HERE: https://musicmondays.databeats.com/event/3005-music-mondays-liondub-present-new-york-to-london-link-up