Only 4 weeks left to get your Acid Trip for 1 Night in 88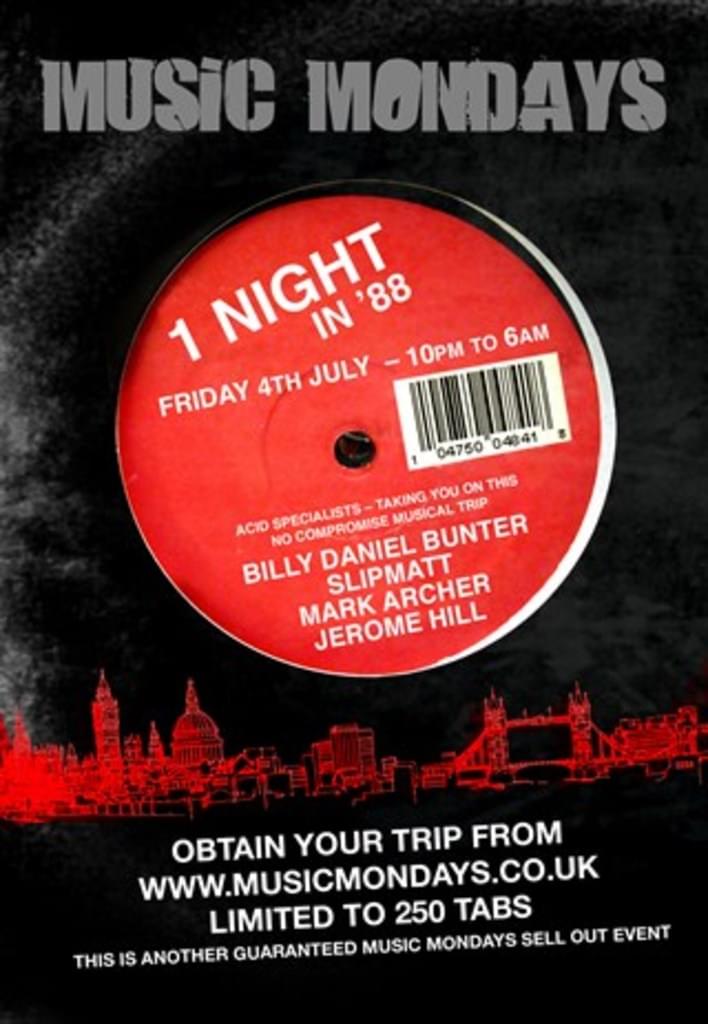 Music Mondays presents 1 Night In 88 Friday July 4th – 10pm to 6am
To be held at London's Ultimate Acid Venue – Union / Vauxhall
Acid Specialists – Taking You On This No Compromise Musical Trip
Billy Daniel Bunter
Slipmatt
Mark Archer
Jerome Hill
Just let yourself go … & scream out Accciiieeeeedddddddddddddddd
Pumping Sound * Full Light Show * Free Fruit On The Dance Floor * Polite Security
Celebrating the release of the brand new Mark Archer & Jerome Hill Album – 1 Night In 88
This is another guaranteed Music Mondays sell out event!
The underground Acid Parties are back, and more underground than ever before. Get ready to be taken on the ultimate trip back to 1988!!
This is a no compromise "Acid House" event with only the rawest and most underground music in what we consider to be the ultimate Acid venue in London. 4 Acid technician's, all playing 2 hour sets each on a bass thumping sound system in an intimate purpose built railway arch. No thrills, no bull shit, no hype, just a taste of Acid Heaven for 8 solid hours!
If you've reached one of our sell out underground events before, you know you're in for the real deal authentic Acid House experience with like-minded Acid Party People. If you're yet to reach one of our authentic parties, get ready to enjoy your trip.
Acid … The story continues ….
Obtain your Trip here: https://musicmondays.databeats.com/event/2914-music-mondays-present-1-night-in-88