WELCOME TO THE UNDERGROUND. THE ONLY OLD SKOOL EVENT IN LONDON ON THE NEXT BANK HOLIDAY WEEKEND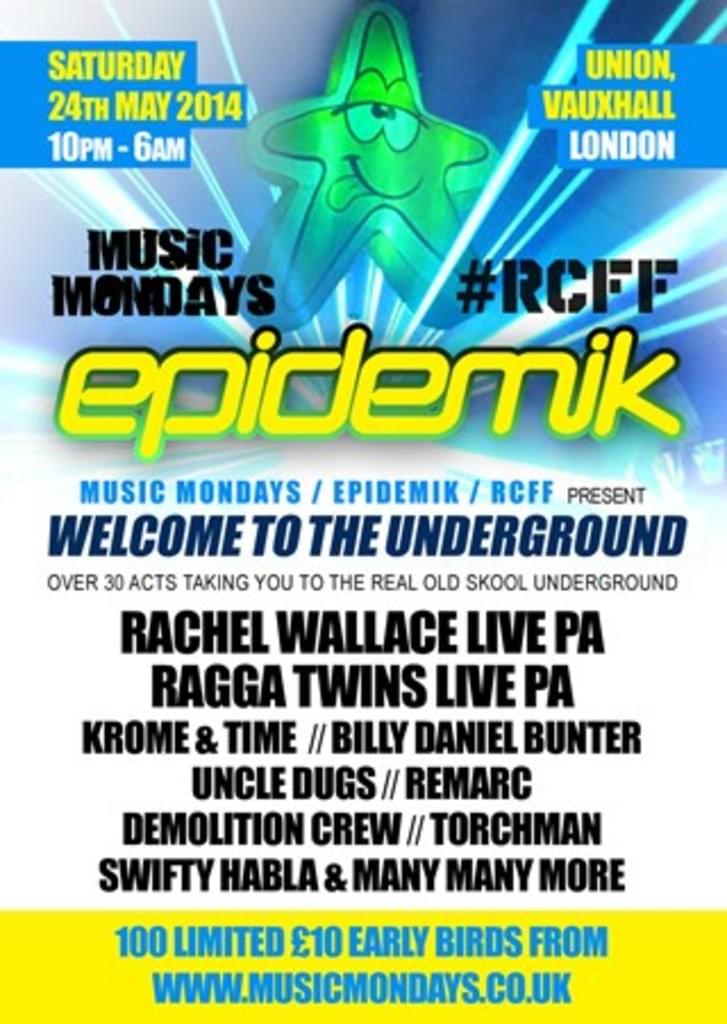 Welcome To The Underground is going to be 8 hours of proper underground Old Skool across 2 rooms. From Acid House to Old Skool Hardcore to Dark 93 to Jungle Rarities. We are going proper authentic underground rave music – "The Real Deal".
Creators of the biggest tunes of the era, Cult DJ's, Pirate Radio Legends, Unsung heroes and experienced entertainers will take you on a journey through the "Underground".
UNDERGROUND ZONE 1
RACHEL WALLACE LIVE PA
RAGGA TWINS LIVE PA
KROME & TIME
BILLY DANIEL BUNTER
UNCLE DUGS
REMARC
TORCHMAN
SWIFTY HABLA
DJ TRIX
TERRY M
UNDERGROUND ZONE 2
DEMOLITION CREW
CLOCKWORK & JINX
MAXX VINYL & JEDI
BUBBLER
EDDIE ESP
DAN REWIND & BECKS
HEIDI ICE & NIBBERS
RHYS JYNX
DJ WISE
HOST'S ACROSS 2 ROOMS –
THE MUSIC WILL BE DOING THE TALKING!!!
MC STRICT, MC LOCKEY, EXPRESS & LIPTON
LIMITED 50 £10 EARLY BIRDS - SOLD OUT
£15 FULL PRICE M.O.T.D - https://musicmondays.databeats.com/event/2876-epidemik-rcff-music-mondays-present-welcome-to-the-underground