I Love Happy Hardcore 2 ** Tickets on sale NOW **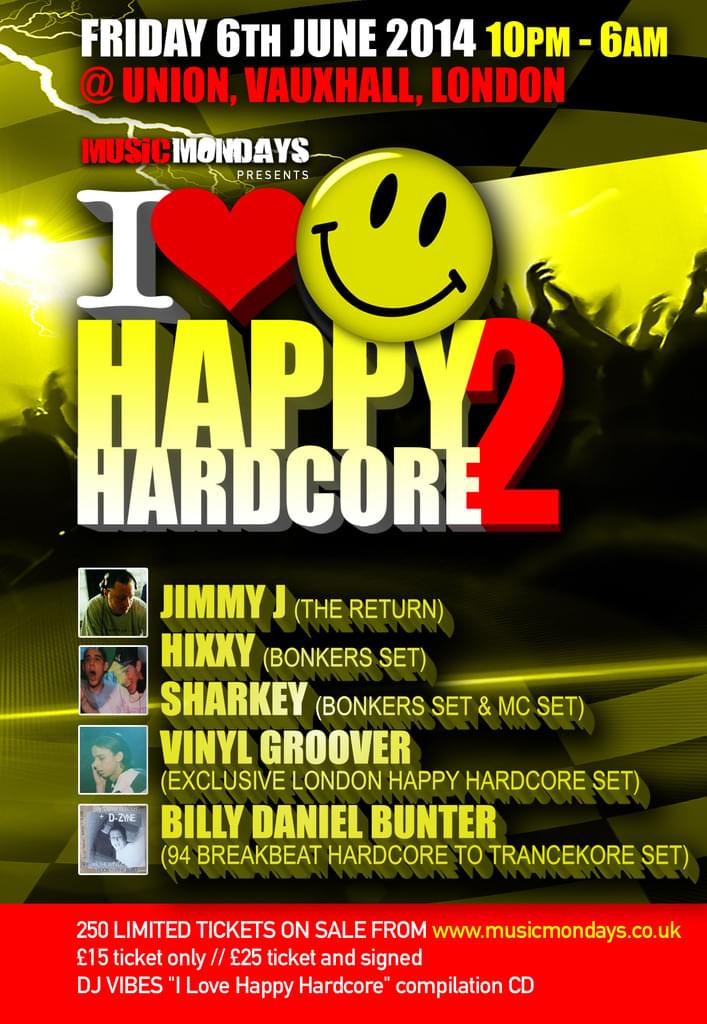 Music Mondays Present I Love Happy Hardcore 2
Friday June 6th 2014. Union. London.
**** 250 limited tickets on sale £15 NOW ****
JIMMY J (THE RETURN)
HIXXY (BONKERS SET)
SHARKEY (BONKERS SET & MC SET)
VINYL GROOVER (EXCLUSIVE LONDON HAPPY HARDCORE SET)
BILLY DANIEL BUNTER (94 BREAKBEAT HARDCORE TO TRANCEKORE SET)
More DJ's and MC's to be announced.
We are back, and this time we are even more excited than the 1st time around. For everyone who reached our launch event Thank you, the vibe you created went beyond expectation. Happy Hardcore and the memories are alive and well and truly kicking!
This line up for part 2 is huge and oozing with charisma and authenticity. Jimmy J the creator of "6 Days On The Run" returns to the stage. Hixxy & Sharkey, the most iconic Happy Hardcore names of the mid 90's. Vinyl Groover the most requested DJ since our launch and Billy Daniel Bunter doing a Break Beat Piano to TranceKORE set … We are in for a night of epic proportions!!
If you reached part 1, you know what to expect. For those who missed out and are coming to part 2, It's simple. A huge sound system and wicked light show in an intimate underground railway arch, surrounded by proper ravers who understand the meaning of Peace, Love, Unity, Rave!!
WE GO BACK AND DO IT PROPERLY!!
GET YOUR TICKETS HERE: https://musicmondays.databeats.com/event/2871-music-mondays-present-i-love-happy-hardcore-pt-2
GET THE DJ VIBES - I LOVE HAPPY HARDCORE CD HERE: https://musicmondays.databeats.com/cd/mmcd001
Join the I Love Happy Hardcore page over on facebook: https://www.facebook.com/ILoveHappyHardcore.1992.1998