DJ Slipmatt 25 - Early bird tickets on sale now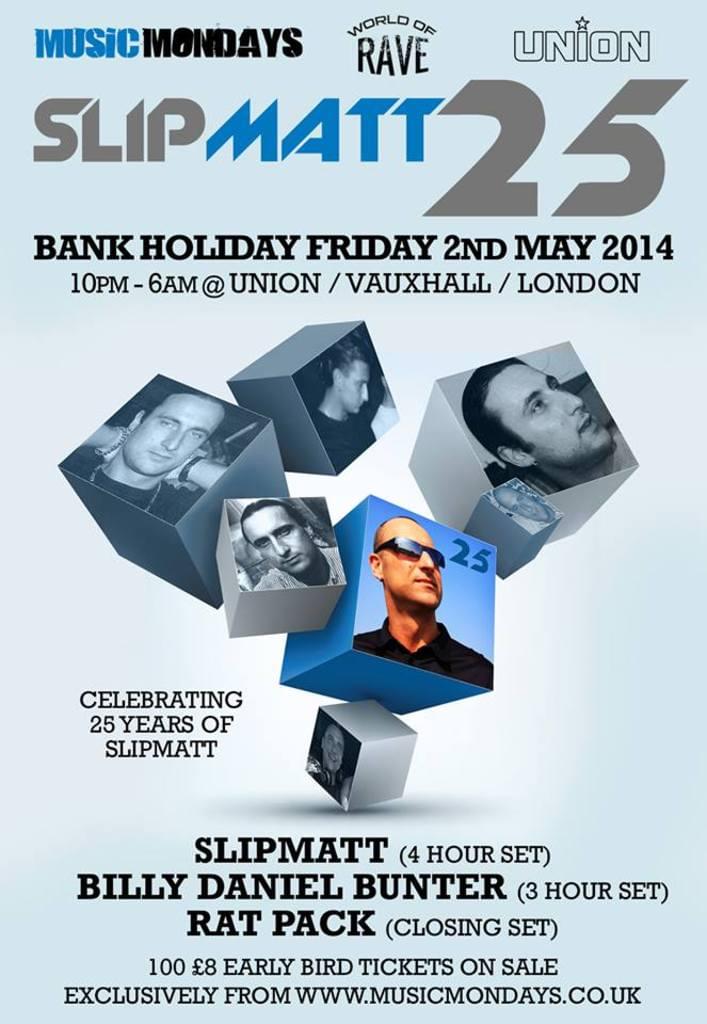 Music Mondays & World Of Rave Present: SLIPMATT 25
Bank Holiday Weekend, Friday 2nd May 2014 10pm till 6am
Union, 66 Albert Embankment, London SE1 7TP
SLIPMATT (4 Hour Set)
Supported by Billy Daniel Bunter & Ratpack
Come and celebrate 25 years of "The Godfather of Rave"
The heady days of 89, the top 10 success of SL2, headlining raves all over the world for a quarter of a century, being number 1 in the Hardcore and Old Skool scenes and maintaining the "Godfather" tag for over 2 decades. Slipmatt is arguably one of the most recognised DJs in the "Rave" scene.
On Friday 2nd May 2014 we celebrate Slipmatt's 25 years as one of the greatest DJ's of our generation. Slipmatt himself will be playing a 4 hour set through his 25 year journey.
Billy Daniel Bunter will be warming up with a 3 hour set, and Rat Pack will be finishing off the celebrations with the closing set.
Union has one of the best sound systems in London and is set in a unique underground railway arch perfect for that authentic 'Old Skool' vibe. If you miss that authentic underground feeling, then what better way to recapture the vibe than at the Slipmatt 25 celebration!
SEE YOU ON FRIDAY 2nd MAY!
100 £8 Early Bird Tickets on sale NOW exclusively >> CLICK HERE
£8 + booking fee
£15 + booking fee (full price tickets)
No dress code || No under 18s
JOIN SLIPMATT EVERY WEDNESDAY - WORLD OF RAVE
Tune in direct >> http://www.slipmatt.net/
Visit>> http://www.worldofrave.co.uk/