Billy Daniel Bunter & Music Mondays FREE PARTY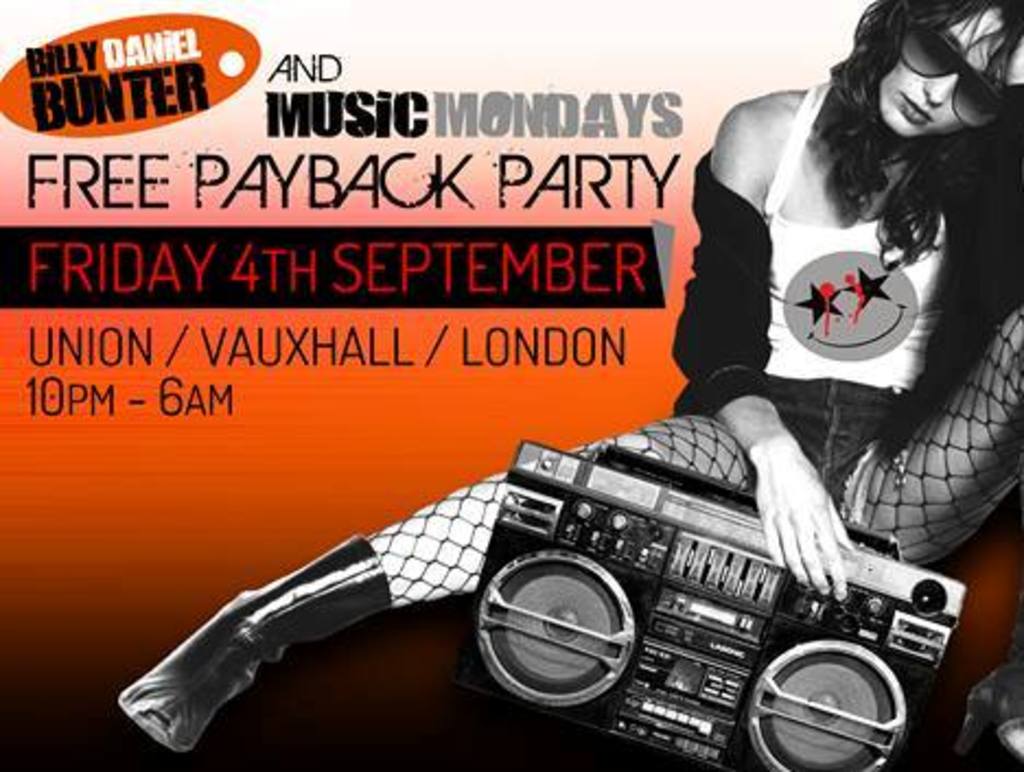 As a thank you for the continued support of myself & Music Mondays. We are throwing a free party!
The line up is huge and a reflection of all the rave music we love old and new with a selection of our favourite DJ's, MC's and Live PA's.
It's a party with a twist. Not only is it FREE. It's also a fancy dress Pimp's and Hoe's theme ... SO MAKE SURE YOU PUT IN THE EFFORT.
To gain your free entry. Simply email your names to hello@musicmondays.co.uk
UNION / VAUXHAL / LONDON / 10PM TO 6AM
FRIDAY SEPTEMBER 4TH 2015
OLD SKOOL * JUNGLE * ACID HOUSE * DRUM & BASS
1 room ... 1 magical vibe.
DJ'S
BILLY DANIEL BUNTER
FUNKY FLIRT
KING YOOF
JAMIE G
DJ MONK
BIG NEV B2B MELLY MELL
DIZZY BLONDE B2B LYDIA BRIGGS
MC'S
SHOCKIN B
DEANY RANKIN
RUDE BOY KEITH
STRICT
LIVE PA'S & SHOWCASES
RTC – H TOWN SHOW CASE
FT RAGGA TWINS, JUNIOR DANGEROUS, KRUCIAL, BLAZEMORE, RIZZLA
2 NICE PERFORMING UPRISING
RONY BLUE PERFORMING SOUND BOY LOVE
ASBO SOUND SHOWCASE FT MRS MAGOO, G MONEY, RASTERLIN
MORE TO BE CONFIRMED!!!
The guest list is limited to only 300 people so get your names in fast!!! To gain your free entry. Simply email your names to hello@musicmondays.co.uk