RAINDANCE JENKINS LANE REUNION PRESENT SPACED OUT * GET YOUR TICKET TODAY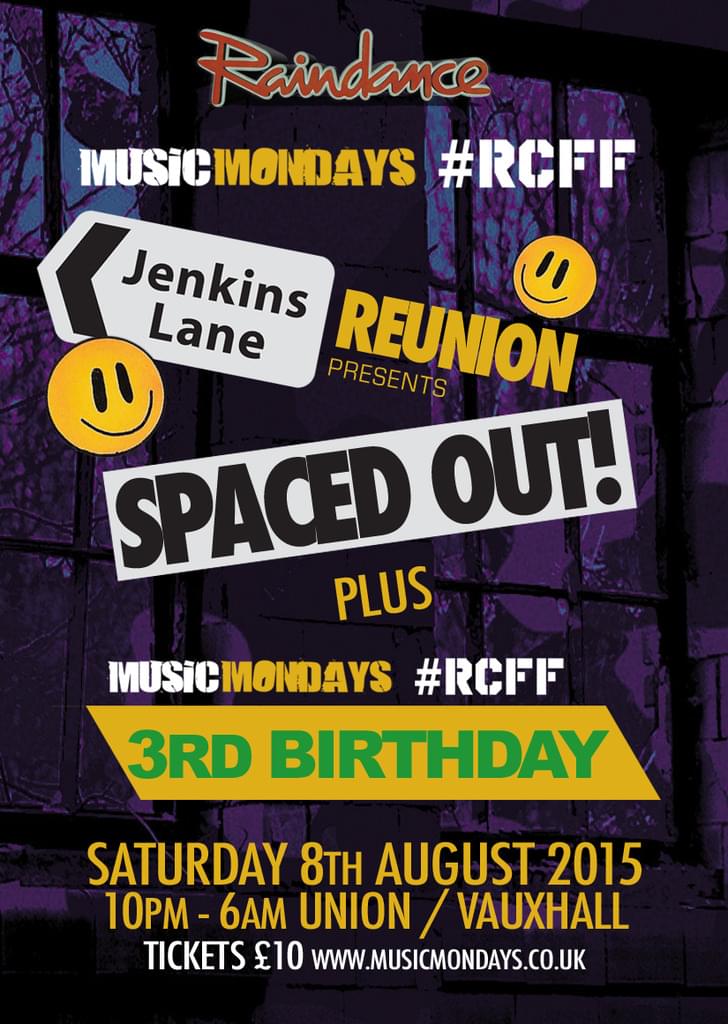 AT LAST … RAINDANCE – JENKINS LANE REUNION RETURNS!! … And have we got something magic in store for you. Not only do we team up with Billy Daniel Bunter & Uncle Dugs to bring you "SPACED OUT". We have also secured a 1st for us "RENEGADE SOUNDWAVE 88/89/90 SET". Since 1989 we've wanted to book these legendry producers who gave Jenkins Lane some of the biggest anthems of that golden Era.
Not only do we have Renegade Soundwave, we have also secured "DANIELLE" from the legendry "DANIELLE & ROCHELLE – CENTERFORCE 88.3 FAME" To spin an exclusive set, just how she did in her Centerforce days 26 years ago.
For all SE1 – Jenkins Lane Reunion crew who raved at SE1 & Drome in those amazing days 5 to 10 years ago, "BILLY DANIEL BUNTER" will be performing an "SE1 – JENKINS LANE REUNION SET" To capture those memorable moments when he used to play last 2 hours at every event with the finest Warehouse 88/89 grooves.
Of course a number of Jenkins Lane Reunion favourites will also be in the house all night providing the authentic "SUMMER OF LOVE" nostalgia and as always we will transform the venue with our unique visuals!!!

In the "RCFF & MUSIC MONDAYS 3RD BIRTHDAY ROOM" we will be celebrating 2 of the most celebrated radio show's with a "HISTORY OF JUNGLE" from Old Skool rave to the present day. Headlining will be Uncle Dugs with one of his infamous "UNDILUTED – RIBENA SETS", and festival favourite King Yoof with an exclusive "FESTIVAL DUB PLATE SET". All night long this room will be going off to a number of the Capitals favourite entertainers capturing the spirit of feel good authentic Old Skool & Jungle past, present and future!!

It's good to be back with an authentic Raindance / Jenkins Lane Reunion. We can't wait to team up with Billy Daniel Bunter and Uncle Dugs to transform every one's favourite underground venue "UNION" in to a "SPACED OUT PARADISE" full of good people, good vibes, good music AND "AMAZING MEMORIES"

Jenkins Lane Reunion – Spaced Out Room
Warehouse Classics / Acid House / Bleeps & Bass / Old Skool
* Renegade Soundwave - Exclusive 88/89/90 Set
* Billy Daniel Bunter - SE 1 Jenkins Lane Set
* Danielle - Centerforce 88.3 Set
* Squirrel - Camden Palace 88/89 Set
* Danny Chicago - Back To The Future Set
* Bubbler - Hip House Set
* Jack Bass - Dungeons Set
* Old Gits - Warehouse Anthems Set

RCFF & Music Mondays 3rd Birthday Room
History Of Jungle – From Rave To The Present Day
* Uncle Dugs - Ribenna Set
* King Yoof - Dub Plate Set
* Eastman - Reggae Set
* Shockin B - Exclusive DJ Set
* Torchman - Dub Plate set
* Merrix & Deany Rankin - UCOJ Set
* Eddie ESP - Old Skool & Jungle Anthems
* Johnny Earl - Old Skool 92 / 93 Set
- Hosts * Shockin B & Deany Rankin
GET YOUR £10 TICKETS HERE > http://bit.ly/1HjxLF3