Warehouse Days Of Glory... Tickets on sale now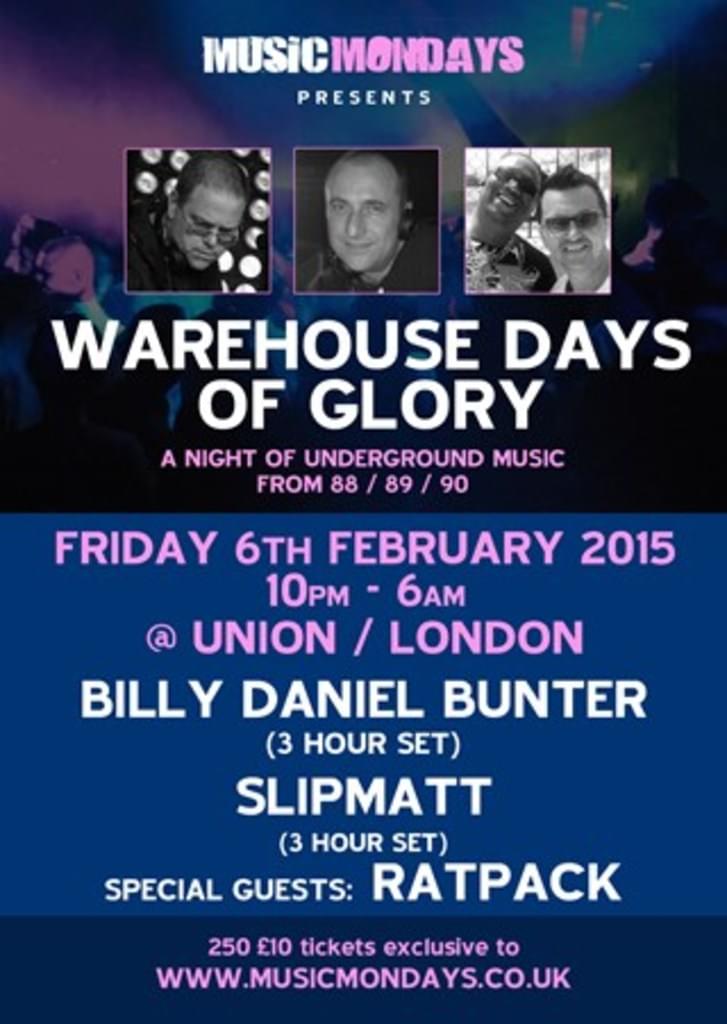 If you love the days of 1988 - 1990 join us on Friday 6th February 2015 where we will be going back in time for the
Warehouse Days of Glory with
Billy Daniel Bunter
Slipmatt
Special Guests – The Rat Pack
Slipmatt and Billy Daniel Bunter celebrate the launch of their new CD "Warehouse Days Of Glory" with a night of Acid House, Warehouse Grooves and Breaks, Bleeps and Bass. Strictly 1987 to 1990 underground vibes.
Rat Pack will be special guests on the night dropping a strictly 88/89 set just like they did in the days of Trip City.
This event is limited to only 250 tickets. So be quick, the Music Mondays NYE event was a complete sell out with a 1 in 1 out policy.
TICKET HOLDERS RECEIVE PRIORITY ENTRANCE.
Standand tickets £10
Ticket Bundle £30 (Including ticket / Warehouse days Of Glory CD & Warehouse Days Of Glory Mug)
GET TICKETS HERE: https://musicmondays.databeats.com/event/4138-warehouse-days-of-glory
BUY THE DOUBLE SIGNED CD HERE: https://musicmondays.databeats.com/cd/mmcd006