1 more sleeps... I Love Happy Hardcore 3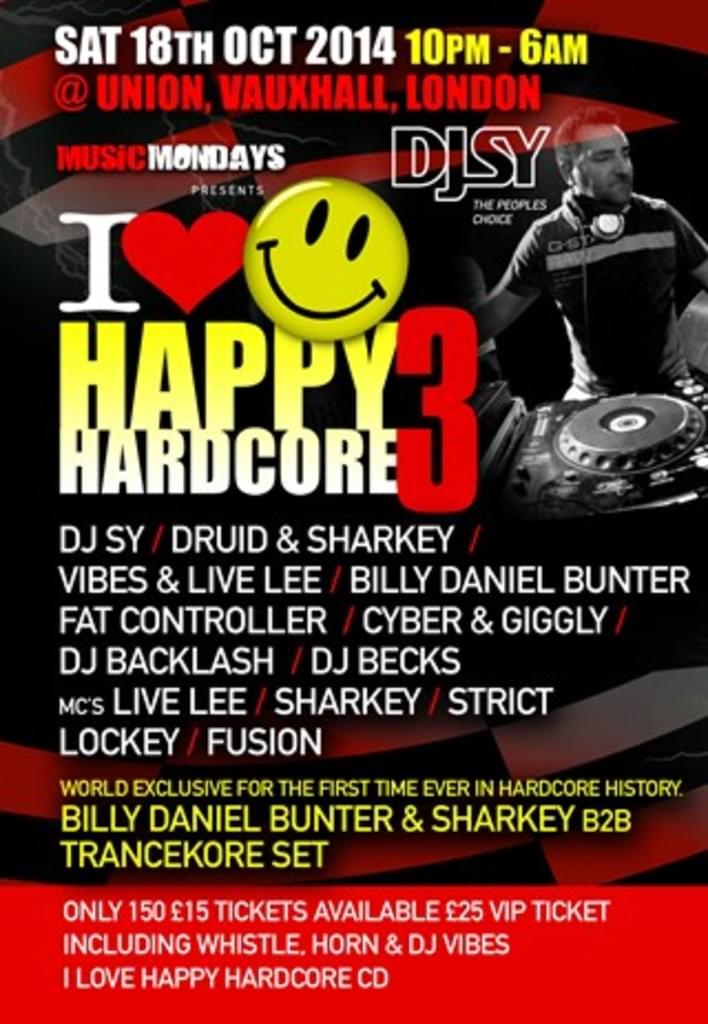 I Love Happy Hardcore returns and this time on a Saturday night…
There was only 1 DJ to get to headline this event. The most requested DJ we get asked to appear at I Love Happy Hardcore. THE PEOPLES CHOICE – DJ SY!
If you've been to the last 2 events at Union … You know how much we all Love Happy Hardcore!
DJ SY
DRUID & SHARKEY
VIBES & LIVE LEE
BILLY DANIEL BUNTER
FAT CONTROLLER
CYBER & GIGGLY
DJ BACKLASH
DJ BECKS
MC'S LIVE LEE. SHARKEY. STRICT. LOCKEY. FUSION
WORLD EXCLUSIVE ... FOR THE 1ST TIME EVER IN HARDCORE HISTORY ...
** BILLY DANIEL BUNTER & SHARKEY B2B TRANCEKORE SET **
I Love Happy Hardcore returns and this time on a Saturday night…
£8 Standard Early Birds SOLD OUT
£10 Super Saver SOLD OUT
£15 Standard ONLY 150 TICKETS AVAILABLE
£25 VIP including (Entry, DJ Vibes I L H H CD, Whistle & Horn).
TICKETS: https://musicmondays.databeats.com/event/3032-i-love-happy-hardcore-3-the-people-s-choice