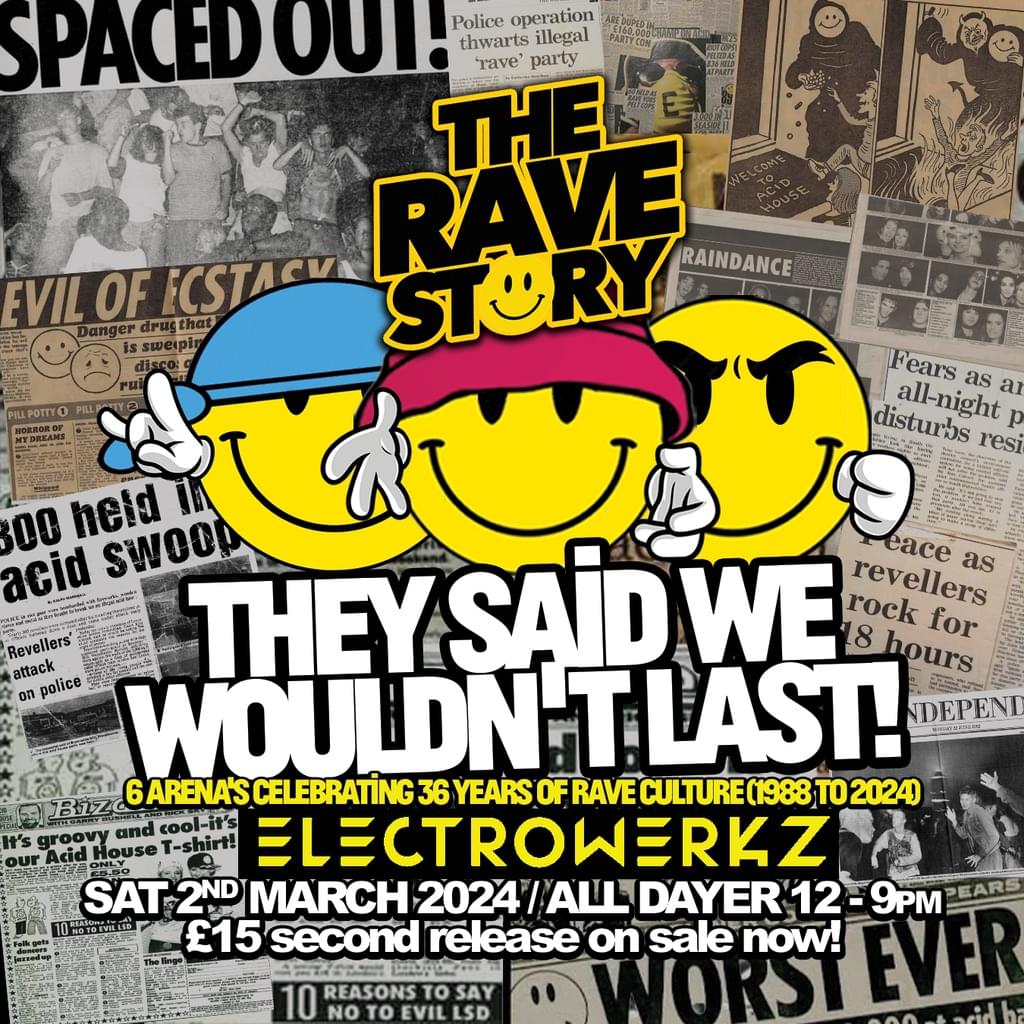 The Rave Story. They said we wouldn't last.
Electrowerkz, 7 Torrens St, London, EC1V 1NQ, UK
Saturday 2nd March 12:00 - Saturday 2nd March 21:00
Limited £10.00 tickets SOLD OUT | £15.00 2nd release on sale now
They said we wouldn't last, and 36 years later here we are.
Raving went beyond the lies the mainstream media told about our culture and went beyond its ending that the commercial dance music press tried to predict and orchestrate. The further the police and the politicians tried to stop us, the harder we pushed back. No matter how many times the DTI shut down our radio stations, the more passionate we came back on air. No one stopped the music, the good times, the families that were started, the marriages, the friendships, the hugs, the memories, the fashion, the cultural shift we created, the hands in the air, the love, the art, the creativity, the energy. The rave scene from 1988 to 2024 has been a magical movement.
On March 2nd we return with our most inspiring Rave Story to date. We cannot wait to come together with you all once again.
6 arenas celebrating rave culture. With 3 raving arena's of Acid House, Jungle & Hardcore.
Over 100 DJs, MCs, Record labels, 2nd hand record stalls, Merch stalls, Book stalls, Art exhibitors and much much more to be announced.
1st headliners announced
Nicky Blackmarket (Old Skool 90's Jungle set)
Ron Wells (Jungle Techno set & Acid House set)
Jerome Hill (Acid House - Bleeps & Bass set)
Billy Daniel Bunter (Old Skool Anthems set)
Jay Cunning (Upfront Hardcore & Jungle set)
Fat Controller (88 89 90 set)
Pete Cannon (Productions set)
Distant Planet (Acid House - Bleeps & Bass set)
Posthuman (Acid House - Past, Present, Future)
*** Over 18's Only | Photo ID Required ***
---