Uncle Dugs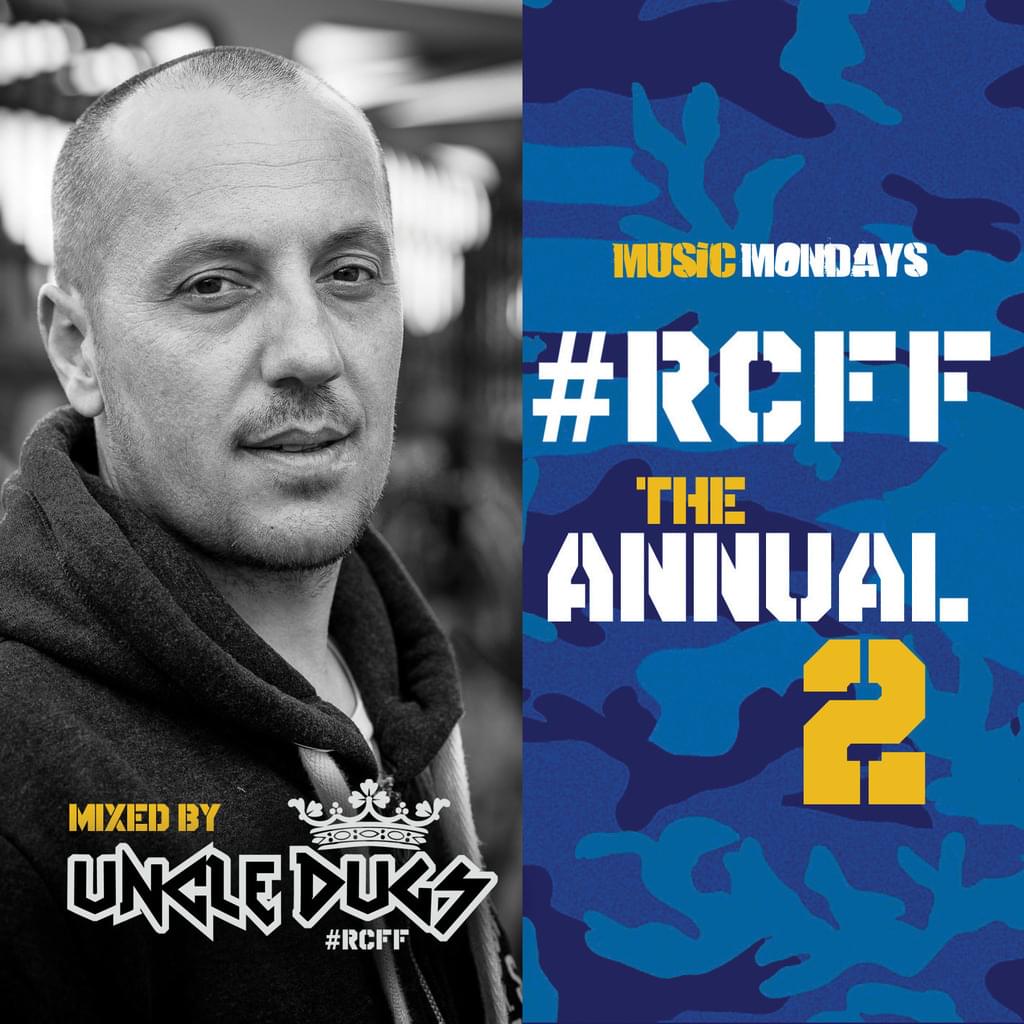 Raindance, Essex, 30th March 1991, Thousands of happy smiley faces all as one with the music, for Simon Duggins life was never to be the same again. After this first rave experience – Two turntables & a mixer were immediately purchased! So begins the Uncle Dugs story…
Hardcore was the sound of the early 1990's but as 1991 turned to 1992/93 Dugs found himself drawn more and more to a new sound known as Jungle. Each day followed a similar routine, Record shopping! Sound tracked by the many pirate radio stations in anticipation of the weekend… Travelling the country going to as many raves as his pocket could stretch to.
Dugs first break playing Jungle to an audience came in January 1995, on a local pirate radio station called Conflict FM. This led to his first paid club booking at the legendary Oscars in Clacton. £10 expenses were collected as his first DJ wage; the climb to the top had well and truly started.
Fast-forward to 1997 and he found himself working at the famous UKG label Ice Cream Records. During the year he worked with them he witnessed their growth from a small unknown specialist label to one that saw major chart success with hit after hit. This was a real eye opener, Friendships were forged here that would become valuable further down the line.
After a spell of playing UKG guest shows on various pirates, Dugs hooked up with Geeneus who ran a small but successful pirate radio station based in East London known as Rinse FM, and began a weekly Saturday afternoon show. He held down this slot through out 98/99 with then DJ partner Graham G. Further cementing his relationship with Geeneus, Dugs helped run Rinse events in East London and Essex and by the summer of 99 his role had developed into station manager. With over 100 artists to schedule on a weekly basis, plus promotion, website updates, audio streaming and co-ordinating with underground record labels, Dugs was well and truly kept on his toes.
Around this time UK Garage was morphing into Grime, artists such as Dizzee Rascal, Wiley, Tinchy Styder, Lethal Bizzle, Devlin, Logan Sama, Target, Roll Deep, Newham Generals, Slimzee, Durrty Goodz, were all Rinse regulars, and as such, Dugs played a pivotal role in bringing these artists to the attention of the world. Rinse was also largely instrumental in bringing Dubstep to the masses, Dugs and Geeneus decided to showcase this new sound even before the genre was named. Superstar DJs such as Hatcha, Kode 9, Youngsta, Quiet Storm (later to be known as Caspa), N Type, Distance, Plastician, Chefal and later down the line Skream, Loefah (Digital Mystikz) were all given there first radio shows at Rinse.
His first stint at Rinse (1998-2005) should be considered as one of the most important periods in UK music. Many young DJs and MCs came through the pirate's ranks, changing the face of the UK's music and culture. This is something Dugs is extremely proud to have been a part of. Even though his main musical love has always been Jungle/D&B, he looks back on these times with great fondness, a massive sense of achievement and immense pride, knowing that he was partly responsible for unearthing and helping to nurture some of the UKs biggest music stars.
Being a person that either gives all or nothing to anything he is involved in, Dugs decided it was time to seek pastures new, and so parted ways with Rinse in December 2005. Shortly after he began a weekly show (Mondays 12-3) on the world famous KOOL London, Thus fulfilling a fifteen year dream. Over the next five years 'Connoisseur Mondays' became one of the most popular shows on the station. Showcasing his talents on KOOL led to bookings at all the major Jungle/D&B raves in the UK. The international bookings soon followed with Germany, Ibiza, Amsterdam & Spain being the first few countries to catch on.
In December 2008 Dugs started a Jungle night known as Revival with his business partner Gary. At that time no one else was catering for the original Jungle sound that he loved so much. After a handful of unforgettable parties in London & even a party at Paradiso in Amsterdam, The Revival name has a place in the history books of Jungle. Arguably, off the back of these nights, Jungle made a strong comeback and many legendary promotions re-appeared, helping to push the music back into the limelight. Look out for the return of Revival soon!
After five happy and successful years on Kool, An opportunity arose which was too good to turn down. Geeneus and business partner Sarah Lockhart had secured a full London FM license over at Rinse, a amazing achievement. They were looking for someone to present a Rave History show and Dugs was there man. They knew his dedication, knowledge, love and commitment for radio and rave music alike was second to none. After careful consideration Dugs took the show on from March 2011. His last show on Kool will go down in pirate radio history, it was possibly the only time that a whole studio of 15-20 grown men were reduced to tears, as were many listeners. This shows the impact he had on the station in his time there. For Dugs, Kool was his number one inspiration in pirate radio and knowing he had become part of the Kool hall of fame was unbelievable and overwhelming.
Rinse FM – RCFF – A new era… Friday 22nd March 2011 was the date of his first ever legal radio show. 'Just 4 U London' pumped through the speakers and this kicked off what was to become one of the most important and well loved radio shows of all time. By the third or fourth week the show was christened 'Run Come Follow Friday' or #RCFF, and soon established itself as a firm favourite with listeners from across the widest spectrum of life. The format of the show was simple but effective – Two hours of classics from a chosen era, followed by a one hour interview with rave scene legend. Having never interviewed live on air before, Dugs had to learn quick. His first guest was his good friend Slipmatt, Interviews with Brockie, Det, Ron, Navigator & Nicky Blackmarket soon followed, the rest they say is history. His relaxed technique quickly won over listeners and guest alike, In what seemed like the blink of an eye, the scene's forefathers were queuing up to discuss their career's & reveal their life stories. No other presenter had taken the time to sit down and talk in such detail before, and so, #RCFF became essential listening each and every Friday.
With help from his loyal listeners, #RCFF regularly trends on Twitter, the sheer volume of shout's, dedication's and banter almost unheard of in radio today. Recent shows with Goldie, Guy Called Gerald, Zinc, Rebel 'Congo Natty' MC, Mampi Swift, MC GQ, Jumping Jack Frost, Ragga Twins, Micky Finn have established Uncle Dugs as the 'go to guy' for artist's eager for world to know there unknown stories. Some of his proudest moments at #RCFF are the 'Pirate Radio Special' Celebrating 18 years of Rinse in 2012 – Pulling together a 'who's who' of Pirate Radio, Its hard to imagine that anybody else could have gathered together these key players and unearthed such fantastic stories from them, once again testament to the respect he has earned from within the UK music scene. The second was the show he did in honour of the late great Stevie Hyper D. Trending on Twitter constantly throughout his three hour show (at one point both his name and the shows #StevieHyperDDay name trended jointly) – The iphone 5 launched the same day, and the show trended above it whilst on air, proving his ability to hold his audience's attention. A nomination for a 'DJ Mag Best Of British' award came shortly after, up against the likes of Pete Tong, EZ, Julio Bashmore and X-Press 2, Once again proving his popularity as a radio presenter in the UK today.
During this time Rinse put his show forward for a Sony Radio Award, showing the confidence the station have in him and the importance of his show. As #RCFF has gone from strength to strength, his DJ career has gone through the roof. You are now certain to find his name on all the major events. From full on Jungle/D&B raves such as Innovation, Random Concept, Pure Science, Roast, Jungle Fever, Moondance & Raindance to mixed genre events such as Fwd, Warehouse Project, Dub Police, Urban Nerds or Vagabondz .
His unique style is all about vibes and energy, perfect for rave or club. He can be credited as being the first DJ to use the mic himself in raves, almost like a Jungle version of David Rodigan. His love for this music is undeniable and Interacting with the crowd comes as second nature, Educating the ravers & spinning stories – An Uncle Dugs set is a highlight of any event he plays. Regular bookings outside the UK now mean that in places such as Japan, Australia, New Zealand the name Uncle Dugs carries the same weight it does here.
In 2013 he won the 'Best Jungle DJ' crown at the OldSkool Awards at Koko in Camden. This really confirmed his place at the very top of the DJ tree. He was in fact the only DJ to be named in both DJ categories at these awards, A massive achievement and something he rightly feels very proud of.
Going Forward…
2014 has been a manic year for Dugs, It should come as no surprise to his legion of fans that a book is the next step, one detailing his time in radio and rave land. Also plenty of studio work with Congo Natty, Billy Daniel Bunter, Aston Freestylers, King Yoof and plenty more – Live vocalists will also feature heavily, promising some Jungle bangers to remember. Expect 2014 to be a year consisting of production, festivals, tours (showcasing his rave story to the nation and beyond) and new ventures into the world of Jungle music so, watch this space ….. So really all that's left to say is that we hope you enjoyed the brief rundown of Uncle Dugs career so far, long may he continue to do what he does best – Play music from the heart with a smile on his face.
Jungle forever >>>>
** BUY YOUR COPY OF #RCFF THE ANNUAL HERE > https://musicmondays.databeats.com/cd/mmcd007
** BUY YOUR COPY OF #RCFF THE ANNUAL PART 2 MIXED BY UNCLE DUGS HERE > https://musicmondays.databeats.com/cd/mmcd014